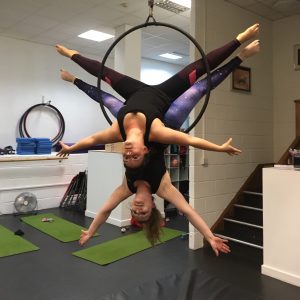 I teach AERIAL LESSONS and WORKSHOPS on Hoop, Silks, Rope and Doubles Aerial.
I am a fun, focused and knowledgeable teacher with over ten years of experience in teaching aerial acrobatics. My teaching credits include Aerial instructor at No Fit State, the UK's leading large scale contemporary circus company, and Head aerial instructor for the dancers of the Bollywood productions at Kingdom of Dreams, Delhi, India.
I teach regular weekly aerial hoop and silks classes in Bristol suitable for all levels.
Here is the full schedule:
Mondays 7:15pm – Aerial hoop routines – Spincity Bristol
Wednesdays 6:30-8pm – Silks (intermediate level) – Albany Centre
**NEW** Thursdays 6:30-8pm – Mixed aerial – UWE, Frenchay campus
Sundays 10-11am – Beginners Aerial hoop – Spincity Bristol
Sundays 11am-12pm – Early intermediate Aerial hoop – Spincity Bristol
All of my weekly classes are listed on MoveGB.
For all Spincity classes you can also book via the following link:
I also run private aerial classes and workshops on request both in Bristol and across the UK.
Get in touch to book a class now!