A few weeks ago I took a trip to London to see my favourite artist of all times, the singer Susheela Raman at the Southbank Centre. She is a force of nature and her unique performances always seems to scream: High quality acts, let you light shine! With her Indian British inspired music rooted on her mixed background, she has found her niche in a truly inspiring way. Her performance motivated me to write this post.
A YEAR ROUND-UP
Another year of classes and shows has come to an end. I have taught aerial hoop classes, silks classes and workshops in Bristol and pole studios around the country. I have performed high quality acts at weddings and corporate events. I was lucky enough to be part of the entertainment for some awesome 4oth, 50th and 60th birthday parties, night clubs and charity balls.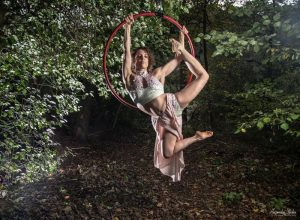 SHOULD I DIVERSIFY?
As a circus artist with years of experience, I do often wonder whether I should diversify and learn new skills to perform and earn additional money. My passion has always lied within the field of aerial acrobatics. After finishing my two year training course in Bristol over a decade ago, I enrolled onto my first ever circus job in a traditional touring circus in India. Back then, some circus acts were still pretty niche and relatively unknown.
I have since seen the boom of popularity in aerial arts, from circus schools joining university programs to hundreds of pole and fitness studios near me offering regular aerial hoop and silks classes as a fun fitness activity for all ages, with core exercise and aerial dance combined to create the ultimate weight loss activity.
I have tried different skills throughout my career as a professional circus acrobat. But no matter what, I always keep coming back to aerial. It is deeply rooted within me, since that moment I saw a contemporary circus show for the first time almost fifteen years ago, and I knew that flying was all I wanted to do.
Considering diversifying is not a result from a dying passion for aerial. It is more a need for feeling afresh the sense of excitement that comes from learning a new skill. I enjoy the path of discovery of what pleases the crowds when performing something new. The underlying concern that what I do is too niche, still grips me sometimes. Should I offer more options so I get more bookings? Shall I stick to what I know and drill my efforts and marketing on that front? I always end up going for the later.
NICHE ISN'T NECESSARILY A BAD THING
I have a thing for quality and I am a technique freak. I simply don't have time to keep working on the high standards of my current skills, and learn something new to the point that I feel competent to perform. Let's face it, perfecting an acrobatic art is really hard and time consuming. So I am going to stay niche, but bloody great. After all, there will always be a need for high quality acts and unique acts with years of experience. The singer Susheela Raman is the definition of niche: there really is no-one like her out there. But her quality and charisma are a superb inspiration to stay unique and shine.