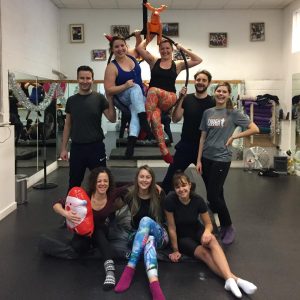 I teach silks and aerial hoop classes in Bristol, and workshops nationwide.
I teach online as well as face to face. You can book onto any of my current classes here:
I am a fun, focused and knowledgeable teacher with over a decade of experience in teaching aerial acrobatics. In normal circumstances I run a thriving teaching practice in Bristol, including aerial hoop and silks classes at various locations such as the University of Bristol, the Albany Centrer, Spincity Bristol and the Bendy Studio.
Do get in touch for more info or if would like to book onto a class.
AERIAL CLASSES IN BRISTOL
Here is a list of venues where I teach:
AERIAL HOOP CLASSES
Bendy Studio
Aerial Hoop Flow (online): Mondays 6:30-7:30pm (last few classes in July!)
Aerial Hoop Flow (face to face): Mondays 7:45-8:45pm
Spincity Bristol
Aerial Hoop Beginners- Sundays 10-11am
To book onto any of these classes drop me a message or book via the Spincity website HERE
Prices are £15 drop, or monthly discounted bookings available
The Student's Union, UWE Frenchay Campus
If you are are UWE student you can join the UWE Move program where you can sign up to our aerial hoop courses running during the course 2021/22 HERE
The classes run on Tuesdays and Thusdays 6:30-8pm
AERIAL SILKS CLASSES
At the Albany Centre, Bristol BS6
Aerial Silks on Wednesdays 6:30-8pm. Click HERE to book. This is an open level class, all levels of ability welcome
Private Aerial Hoop, Hammock & Silks Classes
I run regular ad-hoc private classes suitable for all levels, both face to face and online (via Zoom).
I also offer gift vouchers for an aerial class experience with me.
Get in touch to book a class now or enquire about a voucher now!