It has been about eight months since I attended a rigging course in Bristol, delivered by the knowledgeable Bryan Donaldson of High Performance Productions (you can read my previous blog post here: Fundamentals of Rigging for Aerial Performance )
Ever since, I have become increasingly interested and slightly obsessed with everything rigging related. I read rigging discussions on social media groups and do theoretical load calculations in my head when watching aerial videos. I even browse through You Tube rigging content in my spare time. I have now replaced all rigging material I previously owned and started afresh with brand new equipment. This way I can ensure traceability. Rigging is so close to home as it is a huge part of hanging safely in the air. It is so relevant to all aerial performers world wide.
I recently volunteered to carry out the annual rigging inspection at the University of Bristol, where I teach weekly aerial classes to Uni students during term time. It took me two and a half hours to go through each karabiner, strop, pulley, connector device and black rope to ensure visual and operational inspection. I recorded it accordingly on the relevant inspection form, previously downloaded from the manufacturer's site together with the information acquired through the Rigging course.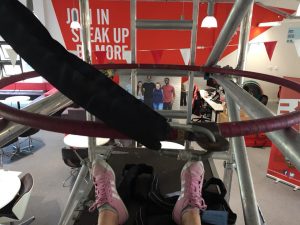 On the scaff tower, half way through the rigging inspection at Uni.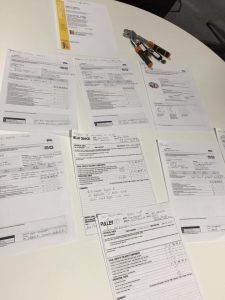 I did have to fill up some paperwork…
As an added bonus, I recently got to work with the simply fabulous Mel Stevens of Aim to Fly Uk. Mel is an inspiring aerialist living with spinal cord injury since 2003, which has positively enabled her to find her own aerial niche and develop a unique style of aerial dance. During our aerial performance at a festival this summer, I observed Mel swapping the aerial equipment using a clever system of harness and climbing devices to interchange the equipment with minimal effort. This is a system that I had previously witnessed but assumed that it was reserved for riggers and 'height workers'. I have now learnt such technique thanks to Mel. I am so glad to have stepped into the land of safety in a gracious and fun way and met some inspiring people in the way. As aerial performers, we all hold a degree of responsibility for learning and sharing good practice to make the global community a safer place.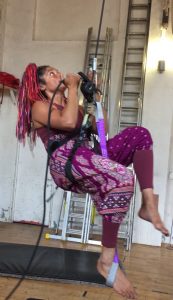 The lovely Mel demonstrating the minirig/ascender climbing system.